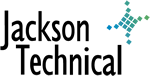 Technology Implementations
Technical Reference
"How-To" Tutorials
News
Beware of Fake Trademark Domain name scams! 4306


We've recently seen an increased number of emails, letters, and web form posts from companies purporting to alert you of trademark infringements in foreign countries. These are NOT legitimate.

Dell Computers, Servers, and Laptops in Tulsa 15285


Jackson Technical is a authorized reseller of Dell PC equipment, notebooks, and servers.